Executive Protection Services
Providing Executive Protection For High-Profile Individuals
What is Executive Protection?
Understanding Executive Protection
At its heart, Executive Protection (EP) is about personal security. Highly trained professionals, often known as bodyguards, are dedicated to always ensuring the client's physical safety. But Executive Protection extends beyond physical protection; it's about proactively managing potential risks.
Who Benefits from Executive Protection?
In short, Executive Protection is typically utilized by individuals with a high public profile, such as business executives, celebrities, politicians, and those with significant wealth. It offers peace of mind, allowing these individuals to focus on their personal and professional responsibilities without worrying about their safety. It's about anticipating and preventing potential threats, not just reacting to them.
The Importance of Proper Planning in Your Protection
Moreover, Executive Protection involves carefully planning and managing the client's daily activities. This includes secure transportation route planning and vetting locations for the client's various engagements, all with a prioritized focus on security.
The Role of Executive Protection
Complete Protection with Global Risk Solutions
Executive Protection goes beyond physical safety. It also involves risk mitigation, privacy preservation, and stress reduction, contributing to the client's well-being. This holistic approach ensures clients can focus on their personal or professional endeavors without constant worry about potential security threats.
High-Risk Protection with Executive Protection
With Executive Protection, individuals exposed to elevated security risks due to their public stature or wealth gain invaluable peace of mind. This service mitigates threats like stalking, harassment, or potential physical harm, offering individuals the confidence to carry on with their lives while knowing their safety is professionally handled.
Business Continuity and Security with Executive Protection
In a business context, Executive Protection safeguards essential personnel who, if compromised, could significantly disrupt the company's operations or reputation. The service helps maintain operational continuity and protects the company's public standing by shielding these individuals from potential risks.
Our Approach to Client-Centric Executive Protection
Identifying Your Personal Security Needs
Our initial step is to identify your needs. We utilize top-tier technology and proven systems to swiftly understand what type of help you require. This process lets us quickly grasp your unique circumstances and the level of security you need. At this stage, our primary aim is to listen and comprehend your situation thoroughly.
Transparent Communication | Your Partner in Executive Protection
Throughout the entire process, from the initial consultation to the deployment of our services, we maintain a clear line of communication with you. We believe that transparency is critical to a successful partnership, and we're committed to keeping you informed every step of the way.
Simplified Protection: Expert Security for Your Peace of Mind
In essence, our process simplifies protection. We are passionate about providing executive protection services that meet your security needs and foster your sense of peace and well-being. We take the lead in driving your security, allowing you to focus on other essential aspects of your life, knowing that your safety is in expert hands.
Customizing Your Executive Protection Strategy
After identifying your needs, we move on to a comprehensive assessment. Our seasoned industry experts discuss the potential strategies and solutions that best meet your needs. We believe in open dialogue with our clients, ensuring that you are involved in the decision-making process and that all your concerns and questions are addressed.
Tailoring Safety Plans for Your Lifestyle
Informed by our initial discussions and assessment, we formulate a compelling and complex plan tailored to your requirements. We consider all aspects, including your daily routines, travel schedules, family commitments, and business obligations. This comprehensive plan is designed to ensure your safety without disrupting your lifestyle.
Continuous Support: Our 24/7 Executive Protection Commitment
Once our Executive Protection services are in place, our commitment to you doesn't end. We offer continuous assistance and support 24/7/365. Our top priority is your peace of mind, and we are always ready to adapt our approach if your needs or circumstances change.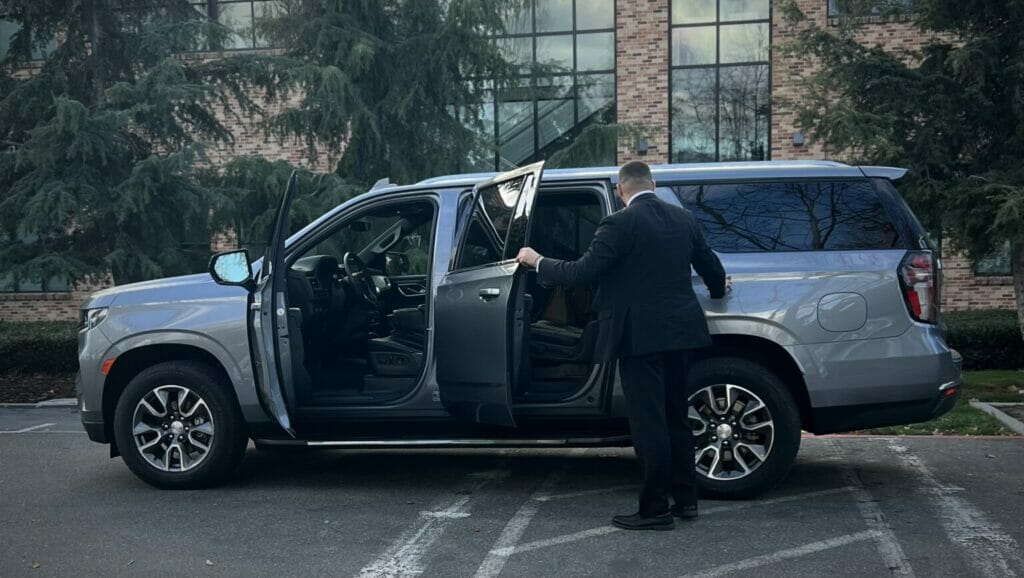 Why You Should Choose Global Risk Solutions, Inc.
Global Risk Solutions, Inc. is actively dedicated to providing gold-standard security services, ensuring our clients' peace of mind, and preserving their quality of life. Our mission revolves around safeguarding our clients, assets, and business ventures, focusing on proactive security solutions, meticulous planning, and seamless operational execution.
We are a full-service security provider committed to maintaining the highest level of performance and delivering an unrivaled level of protection. Our practices are rooted in respect, integrity, and professionalism, prioritizing safety, confidentiality, and convenience for our clients.
Through continuous training and adherence to industry-leading standards, we foster a culture of excellence within our team, ensuring a safe and secure environment that supports and enhances our clients' endeavors.
Offering Custom-Tailored Security Strategies
At Global Risk Solutions, we understand that security is not a one-size-fits-all solution. We go beyond cookie-cutter approaches to ensure your protection is custom-tailored to your unique needs and lifestyle. Our expert team takes the time to comprehend your requirements, allowing us to design and implement security strategies that perfectly align with your situation. In the world of security, every detail matters. At GRS, we make every detail count.
Our Commitment to Unmatched Customer Service
Our reputation for exceptional customer service is no accident. We believe in putting our clients at the forefront of everything we do, ensuring a seamless and satisfactory experience. We uphold an unwavering commitment to quality in every detail of our work, reflecting our expertise and dedication to continuous excellence.
Veteran Owned and Operated Security Provider
Our esteemed status as a Veteran-Owned and Operated organization truly sets GRS apart. Global Risk Solutions comprises proud veterans who have served their nation proactively, bravely, and selflessly. The ethos of honor, resilience, and duty, instilled in them throughout their military and law enforcement careers, now forms the core of our culture.
Skilled and Resilient Agents
Our agents bring diverse skills, honed under the most demanding conditions, to address your security needs. They've been battle-tested, demonstrating unbreakable resilience and a continuous commitment to safeguarding others, especially in adversity. Their unshakable integrity ensures they act honestly, ethically, and responsibly.
How We Prioritize Your Safety
At Global Risk Solutions, we go beyond providing a mere security service; we create a safer, better environment for our clients. As a dedicated protector, we place the safety of our clients at the forefront of everything we do. When you work with us, you're not just another client. You become part of the GRS family, where your security, peace of mind, and well-being are our top priorities anywhere you go.
Preserving Your Privacy and Protecting Prosperity Anywhere
We safeguard your privacy with discretion and defend your prosperity with expert, personalized security. Our promise to you is a secure world provided with integrity and respect.
Our Variety of Private Security Services
Global Risk Solutions provides various security services designed to meet diverse security needs. Our comprehensive portfolio is a testament to our expertise and commitment to delivering optimal solutions for multiple scenarios.
Our Nationwide Security Reach
At Global Risk Solutions, we're as widespread as your needs. With offices strategically positioned across the country, our strong presence allows us to respond to your security needs, irrespective of location, promptly. Explore our interactive map to discover our established company and your closest GRS office.
Your Trusted Partner in Private Security Services
Your Success, Our Commitment: Explore Private Security Services Today.
Angela Ostermeier
Vice President of Development | CineQuest
"It was an absolute pleasure working with the team from GRS! They were professional and kind! They helped ensure our VIPS were treated with respect and also provided a warm presence at each experience. Friendly, polished, and we will absolutely engage them again for future events. Thank you, GRS!"
Stephen Coyne
Business Development Manager | Deckers Brand
"Working with the Global Risk Solutions, Inc. team is such a pleasure. Professionalism, Reliability, & Integrity are all key components of their work ethic. GRS is what you're looking for when it comes to Security."
Mark Withrow
Chief Executive Officer | Golden State Consulting
"I highly recommend this company because they took the time to really listen to my needs over the phone, arrived early to set up, and provided state of the art communications to ensure nothing was missed."
Jason Cabbiness
Chief Executive Officer | Cabbcomm
"Very professional, knowledgeable , and reasonably priced for the services provided."
Discover peace of mind with Global Risk Solutions, Inc., where your security is personalized, cutting-edge, and far-reaching daily.
Frequently Asked Questions
Question: 1. What is Executive Protection?

Answer: Executive Protection involves safeguarding high-risk individuals, such as executives, celebrities, and politicians. It includes risk assessment, planning, logistics, and physical protection.
Question: 2. How does Executive Protection differ from standard security services?

Answer: Unlike standard security services that focus on property or general safety, Executive Protection is specialized in protecting individuals from personal threats, such as assaults, kidnapping, or harassment.
Question: 3. Who typically uses Executive Protection services?

Answer: Business executives, political figures, celebrities, high-net-worth individuals, and others who might be targeted due to their status or occupation.
Question: 4. What qualifications are required for an Executive Protection specialist?

Answer: EP specialists often require specific training in personal protection, threat assessment, and crisis management. They may also need licensing, a background in law enforcement or the military, and strong interpersonal skills.
Question: 5. Is Executive Protection only for high-risk individuals?

Answer: While often used by high-risk individuals, EP can be employed by anyone needing specialized personal protection, including during specific events or travel to unfamiliar locations.
Question: 6. What services are typically included in Executive Protection?

Answer: Services may include planning, route analysis, residential security, personal escort, emergency response coordination, and more.
Question: 7. Can Executive Protection be used internationally?

Answer: Yes, many EP providers offer international services, considering varying laws, customs, and risks in different countries.
Question: 8. How much does Executive Protection cost?

Answer: Costs vary widely based on the level of risk, location, duration, and specific services required. It can range from hundreds to thousands of dollars per day.
Question: 9. How is threat level determined?

Answer: EP specialists assess threat levels by analyzing public exposure, occupation, travel patterns, current events, and any known or perceived threats against the individual.
Question: 10. What types of vehicles are used in Executive Protection?

Answer: Vehicles can range from standard unmarked to armored, depending on the threat level and client preferences.
Question: 11. Are Executive Protection specialists armed?

Answer: This varies by jurisdiction, client preference, and threat level. Specialists must adhere to local laws and have appropriate licensing and training if armed.
Question: 12. Can Executive Protection include family members?

Answer: EP services can be extended to family members or associates, depending on the client's needs and potential risks.
Question: 13. How do EP specialists handle medical emergencies?

Answer: EP specialists often have training in first aid and emergency medical response. They may also coordinate with local medical facilities and have plans in place for medical emergencies.
Question: 14. Can I hire Executive Protection for a single event?

Answer: Yes, EP can be hired for specific events, business trips, or other short-term needs in addition to long-term assignments.
Question: 15. What is the role of intelligence in Executive Protection?

Answer: Intelligence gathering and analysis are essential for risk assessment, planning, and threat detection in EP. This can include monitoring social media, local news, and other sources for potential threats.
Question: 16. How is confidentiality maintained in Executive Protection?

Answer: EP specialists often sign confidentiality agreements and adhere to strict privacy protocols to protect the client's personal and business information.
Question: 17. What is a typical day like for an EP specialist?

Answer: A typical day can include planning, route scouting, coordination with other security personnel, constant monitoring, and physically accompanying the client.
Question: 18. How do I choose the right Executive Protection provider?

Answer: Consider factors like experience, reputation, training, licensing, customization of services, and the ability to meet specific needs and preferences.
Question: 19. Can Executive Protection services be discreet?

Answer: Yes, discretion is often a key component of EP, and specialists can blend in with the environment or appear as part of the client's staff to avoid drawing attention.
Question: 20. Can Executive Protection include cybersecurity?

Answer: Many EP providers also offer cybersecurity services to protect the client's digital information, recognizing that threats can be physical and virtual.